"We Call It Home" Nature One 2017 von 4. bis 6. August 2017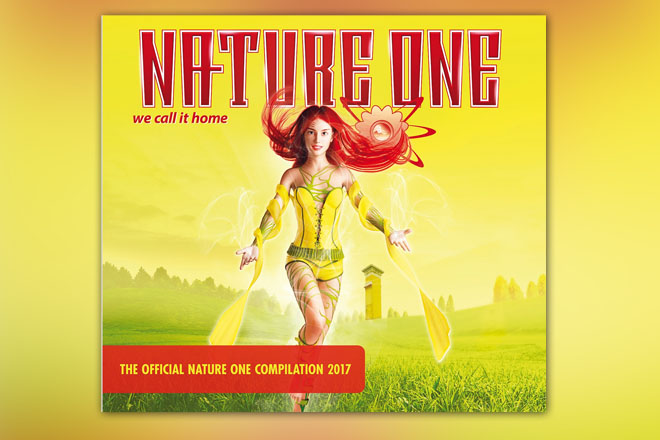 "WE CALL IT HOME" - unter diesem Motto findet das größte Elektro-Festival Deutschlands NATURE ONE vom 04. bis zum 06.08. 2017 statt! Über 350 DJs auf 23 Floors werden die rund 70.000 Party-People drei Tage lang zum Kochen bringen und feinsten EDM, Deep House und Rave servieren!
Grund genug, dieses Spektakel der Superlative mit einer fantastischen 60-Track starken Compilation zu feiern! Auf drei CDs tummeln sich die neuesten und aktuellen Tracks der Techno-, Dance- und House-Pioniere!
Mit dabei unter anderem Armin van Buuren, Gestört Aber GeiL, EDX, Nora En Pure, ATB, Cosmic Gate, Format:B, Tujamo, Worakls, Paul van Dyk, Sascha Braemer, Moonbootica und viele mehr! Die diesjährige Hymne "we call it home (prod. by Cuebrick)" von "Nature One Inc." ist natürlich auch am Start!
Friedlich, Open-Minded, glücklich. Das ist das NatureOne-Land. Das grenzenlose Wir-Gefühl. We call it home. "Nature One 2017 – we call it home" – das ist der richtige Soundtrack für das Festival-Highlight des Jahres!!
"We Call It Home" Nature One 2017 3CD Tracklist
Open Air Floor
NATURE ONE INC. - WE CALL IT HOME (PROD. BY CUEBRICK)
ARMIN VAN BUUREN FEAT. JOSH CUMBEE - SUNNY DAYS (CLUB MIX)
DIMITRI VEGAS & LIKE MIKE - READY FOR ACTION
MAD M.A.C. & JAMIS - RENEGADE MASTER (DIMITRI VEGAS & LIKE MIKE EDIT)
COSMIC GATE & FERRY CORSTEN – DYNAMIC
ATB FEAT. HALIENE - PAGES (ATB'S FESTIVAL MIX)
FEDDE LE GRAND - DANCING TOGETHER
OSTBLOCKSCHLAMPEN FEAT. ABAZ & TALINA RAE - ECHO (M-22 REMIX)
TUJAMO - MAKE U LOVE ME
SEM VOX - ROCK THE WORLD
WOLFPACK & DIEGO MIRANDA - POINT BREAK
DIMARO - MYSTERY
FEENIXPAWL - SINNERS
MORDKEY X MASTROVITA - BEAUTIFUL YOU
MOBY - PORCELAIN (ABOVE & BEYOND REMIX)
NEELIX - 1000 STERNE
PAUL VAN DYK - TOUCHED BY HEAVEN
SAGI ABITBUL - MARIKO
ANDREW RAYEL – TACADUM
JEBROER, DJ PAUL ELSTAK - KIND EINES TEUFELS
House of House
EDX - ALL I KNOW
LOST FREQUENCIES FEAT. AXEL EHNSTRÖM - ALL OR NOTHING (WHO KNOWS REMIX)
WANKELMUT & CHARLOTTE OC - ALMOST MINE (MAT.JOE REMIX)
TIËSTO - TEN SECONDS BEFORE SUNRISE (MOSKA REMIX)
SASCHA BRAEMER - NO SENSE
AKA AKA FEAT. THALSTROEM - WHAT MATTERS (TUBE & BERGER REMIX)
NALIN & KANE - BEACHBALL 2017 (JUDE & FRANK REMIX)
NICOLA FASANO & MIAMI ROCKETS - PAJARO DEL MONTE
MOONBOOTICA - F.Y.S.
RON CARROLL - LUCKY STAR (AMESZ REMIX)
SUNNERY JAMES & RYAN MARCIANO - SHORTY
MARKUS GARDEWEG - SAME SAME BUT DIFFERENT
CALVO - IN LOVE WITH YOU
NORA EN PURE - MAKE ME LOVE YOU
MOGUAI FEAT. CHEAT CODES - HOLD ON (ALLE FARBEN REMIX)
CROATIA SQUAD - MAKE YOU HUSTLE
ËXX FEAT. LAURA LUPPINO - LIFT ME UP
MIKE MAGO FEAT. ELDERBROCK - YOU DON'T KNOW ME NOW
LIKA MORGAN - FEEL THE SAME (EDX DUBAI SKYLINE REMIX)
WORAKLS - NOCTURNE
Century Circus
LEXER - REASON (TOWNSHIP REBELLION REMIX)
OXIA - DOMINO (MATADOR REMIX)
EELKE KLEIJN - THE TERMINAL (SÉBASTIEN LÉGER REMIX)
JAN BLOMQVIST - HER GREAT ESCAPE (DAN CASTER REMIX)
SIWELL - RAW CONNECTIONS
JUNGE JUNGE FEAT. KYLE PEARCE - RUN RUN RUN (DRUMCOMPLEX REMIX)
FORMAT:B - NOT ENUFFF
ARMAND VAN HELDEN VS ANOTR - FUNK PHANOMENA
RAUMAKUSTIK - DEM A PREE (PATRICK TOPPING REMIX)
MATTHIAS TANZMANN - SHAKE SHAKE (ANDREA OLIVA REMIX)
SAM PAGANINI - CANDY
MONIKA KRUSE MEETS PIG&DAN - GET ME ON
MARTIJN TEN VELDEN - OCATAGON
2000 AND ONE - GET DOWN (LEN FAKI DEEPSPACE MIX)
JUST HER - FOLLOW YOU DOWN (OLIVER SCHORIES REMIX)
FABRICIO PECANHA - COMPASS
CARL BOOTH - SAWTOOTH (SEBASTIAN GNEWKOW REMIX)
KLAUDIA GAWLAS - MONOPHOBIA
MATT MUS & PAPPENHEIMER - PLEASE
REBEKAH - CODE BLACK
Die Compilation Nature One 2017 "We Call It Home" erscheint am 28.07.2017.